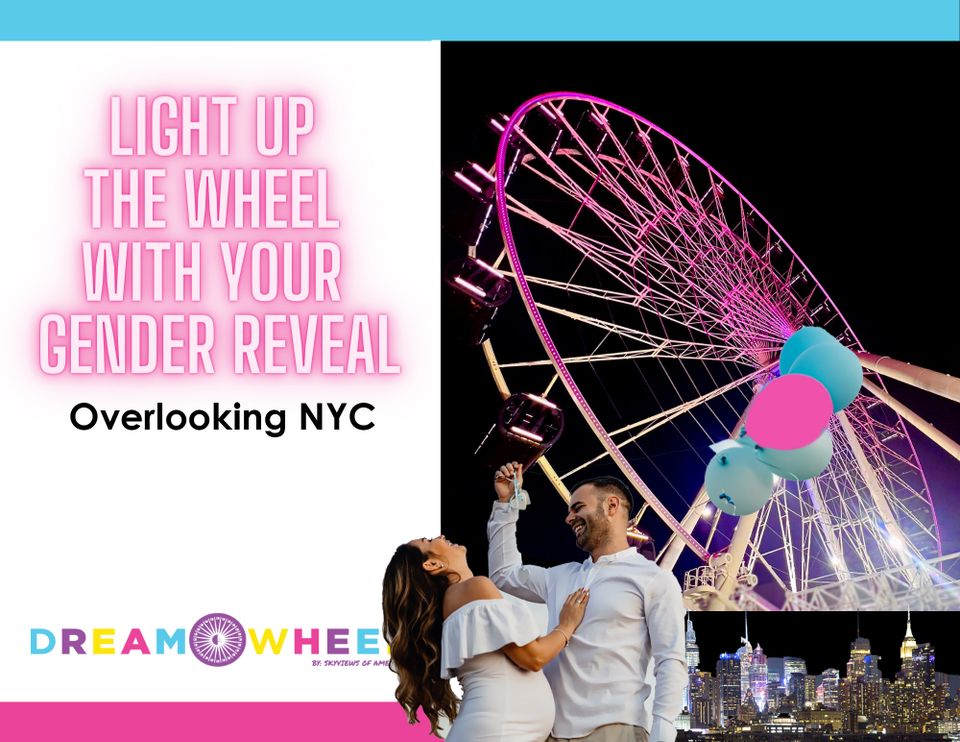 Baby
Gender
Reveals
at the
Dream Wheel
Click on this link to contact us! 
Attention all parents-to-be! Choose a unique and extravagant way to reveal your baby's gender at The Dream Wheel overlooking breathtaking views of NYC. Invite your family and friends for a premium viewing on this fun ferris wheel. Your guests will watch the wheel light up with a pink & blue light show until your baby's gender is revealed with the final color!

Your friends at Deep Fried Love will be happy to take care of drinks, treats and even a cake if needed. We look forward to celebrating your big day!
Gender Reveal Wheel Package Includes:
Admission to The Dream Wheel

Private gondola ride

A light show reveal

Gender reveal box filled with pink or blue balloons

Gender reveal banner for pictures

A special viewing area for your group with a table and 10 chairs
We are the most unique way and the perfect place to host your gender reveal party. The Dream Wheel Attraction is your dream gender reveal venue. We are experts and professionals in creating an incredible environment for you to celebrate with your family and friends! Ready to explore what all the Dream Wheel Attraction has to offer. Read on for more information.

The Best Place To Have a Gender Reveal Party

We bring general reveal parties to the next level. Finding out the gender of your baby is an exciting one-in-a-lifetime event for all parents-to-be. It is a popular trend and tradition to share your baby's gender with your family and friends. Start your baby's journey with us.

We are a specialized venue which will provide you and your partner with a once-in-a-lifetime experience that everyone in the family will enjoy.

The gender reveal party of your dreams at the Dream Wheel Attraction in East Rutherford, NJ, is just waiting for you to reserve your date!
Start Your Parenting Journey Off VIP Style

Set the tone from the jump and start your parenting journey with style and class with Dream Wheel NJ's VIP packages. Our private gondolas provide a customizable and intimate setting to make this special event even more memorable.

Time To Book Your Gender Reveal Party at The Dream Wheel

Plan the perfect gender reveal in front of the iconic New York City skyline! Show off the breathtaking views of the city and make your big announcement even more special with a unique backdrop. Create a lasting memory for you, your partner, and your guests.

Located in the American Dream Mall, the Dream Wheel has all the resources and amenities to create the perfect atmosphere for your big announcement.